★★★★★
This is my first film of 2018 it's been a while and I'm so excited! Despite never enjoying superhero films… I can safely say Marvel have sucked me in and after seeing Black Panther I can't wait for Infinity War. I love the hype around the film and I can't believe it's taken this long for representation in Hollywood to get a move on. This is only the beginning and since it's something I've written about at university I felt quite moved in a sense the art, the music, the visuals and the cast are amazing. 
I feel like there is a huge misconception of what Africa as continent represents, there's people out there who probably believe Africa is a singular country but within that there are so many languages, flags and traditions just as there is in Europe. I've seen a lot of online arguments on the subject of race and people suggesting it's "stupid" to be empowered by the film. They clearly haven't watched the film and if they have I think it is pretty ignorant to deny those with brown skin to feel proud that they finally have a positive representation… it's only because white representation is so common they can't see past it "what's the big deal?". GTFO.
Director Ryan Coogler is only 31 and is a true inspiration who brings us to Wakanda and it's only his third film?! Hidden, to the rest of the world known as a third world country, Wakanda has advanced technology so powerful maybe too powerful hence King T'Chaka's reluctance to share with the rest of the world. Since King T'Chaka's death in Captain America: Civil War it is now up to his son T'Challa the Black Panther played by Chadwick Boseman to rule Wakanda. Blessed with Vibranium a powerful resource that fuels the country, Nakia played by Lupita Nyong'o believes her place resides outside of Wakanda as an agent helping those in need who don't have the powerful resources and security of Wakanda. T'Challa has a soft spot for her and you can see his conflict of encouraging a positive change at the expense of Wakanda's safety. 
I felt slightly angry at this point because of course T'Challa owes nothing to the western world who enslaved his ancestors but what about the rest of Africa and those around the world? With Wakanda's help suffering would be ceased and the power of Vibranium would advance many other African countries…  IN AN IDEAL WORLD. Although Wakanda lives in secret this obviously ends up attracting the wrong sort of attention and we meet Ulysses Klaue a crazy arms dealer played by Andy Serkis. He was insane and played his part well as he teamed up with Michael B. Jordan's character Erik Killmonger. 
Although Wakanda is a fictional country it is all very real and relevant to the current politics of the world. Michael B Jordan's villain has been compared to Heath Ledger's Joker in 2008's The Dark Knight however the Joker is insane. Erik Killmonger isn't insane his argument driving his villainous behaviour is one I even thought as the film progressed. Where was Wakanda when black people were held at the expense and disposal of the white man? Jordan's portrayal and emotion drove his performance and within the Marvel universe he's one of the best villains I've seen… right up there with Loki!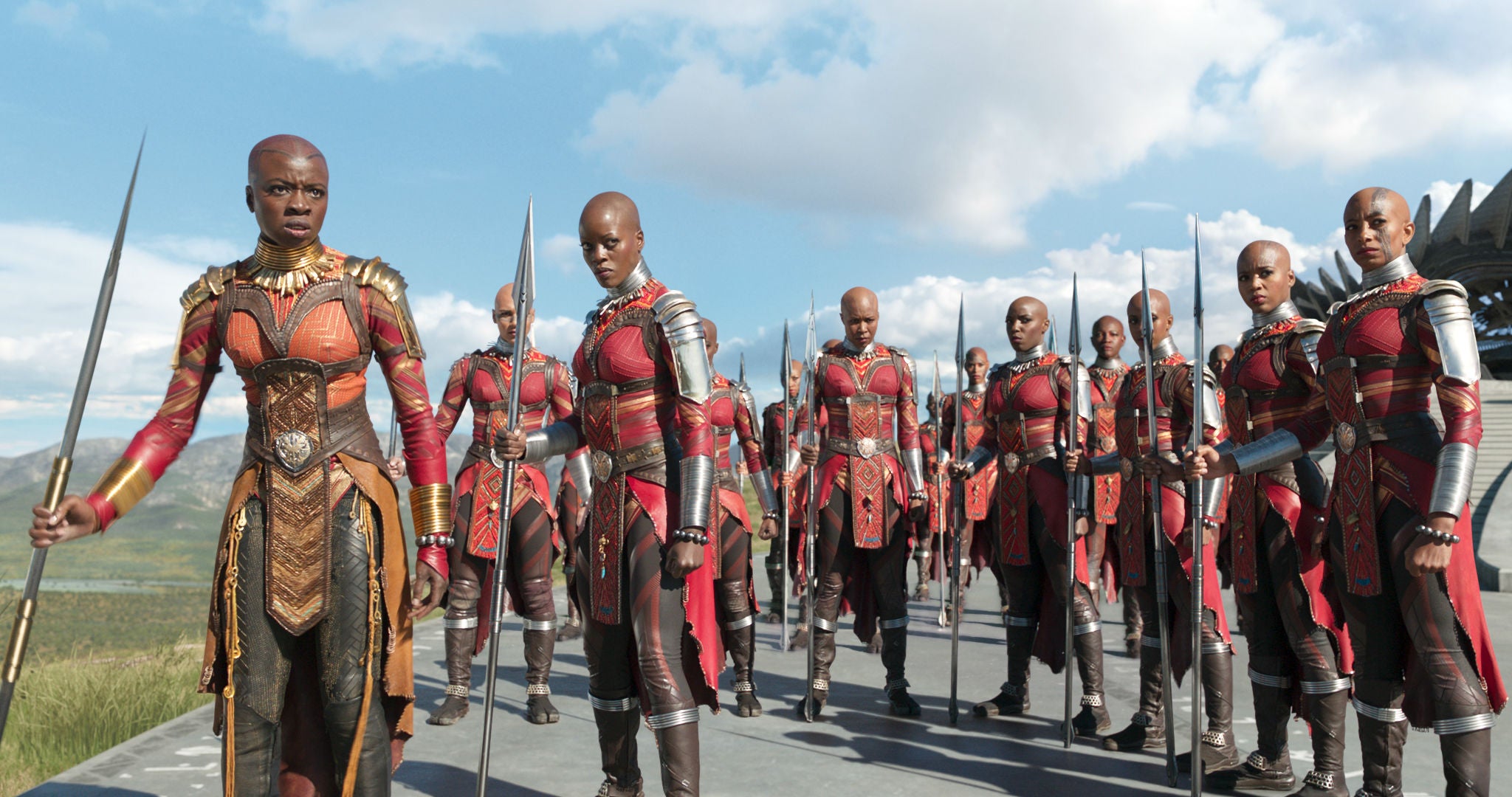 Let me not forget to mention my favourite lady Danai Gurira. She does not get enough attention in this world not only for young black girls but for every little girl in the world she is just the best. Gurira is an AMC's The Walking Dead OG and I was so happy to see her fight in Black Panther similar to her character Michonne in The Walking Dead. She was everything fangirlfangirlfangirl. Letitia Wright offered comedy as T'Challa's younger sister and had some funny lines in the film that I wont spoil but their sibling chemistry was hilarious.
As well as Andy Serkis we had Martin Freeman the "Tolkien white boys" and if you don't get the joke you don't deserve this world. Freeman with that American accent what a killer! But he did provide such a typical awkward white-man character who doesn't quite know what to do it was great. So many amazing performances Winston Duke, Daniel Kaluuya, Angela Bassett and Forest Whitaker. Go Marvel I can't wait for infinity war. 
ALSO fell in love with the soundtrack, Kendrick Lamar led the way and my favourite song off the album I KNEW WOULD BE PLAYING THROUGH THE CREDITS AT THE END which was so enjoyable as you know Marvel 🙂  – Kendrick Lamar, SZA – All The Stars